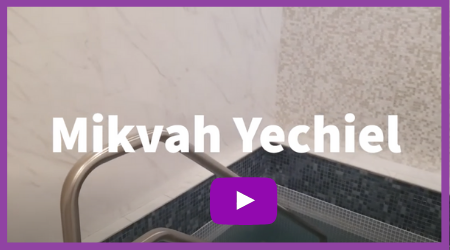 •••
Our brilliant sages have said, all beginnings are difficult.
Our holy sages have said, anything of holiness comes with opposition.
The officials of San Francisco have said, what is a mikvah? 
•••
Our project began March 2016 and almost immediately we began to experience Divine assistance bordering on the miraculous.  In order to build the mikvah we needed the acquiescence of our neighbors and a special variance from the city. We received both without difficulty.
Any large construction project will include in addition to the plans, numerous changes, revisions, details, and many glitches. Baruch Hashem, we are past the initial building stages and are seeing the light at the end of the tunnel. We have completed the Mikvah well and room. We are nearly finished with the women's preparation area. What we still have to accomplish is the men's dressing room, install a filter and heater, and buy the vanities, mirror, bath tub, towels etc. We have been very careful with the money collected. We expected the project to cost approximately $300,000. We have spent $437,326.64.
When we made the estimate we did not factor in the deck or the rehabilitation of the prayer room. The deck was built to enable the rainwater to fall directly into the Mikvah. The rehabilitation of the prayer room not only transformed the garage into a Shul, but also included a special variance that acknowledges the legality of our center. The excavation of the mikvah well was more expensive than planned. When digging underground, sand was found beneath the concrete. Many layers of cement were needed to make it earthquake safe. We also had to redo some of the plumbing to accommodate the additional water that the system has to carry. 
After the city approved our initial plans submitted by our architect, they later insisted on revisions to make the mikvah ADA accessible. We needed new plans for the entrance, preparation room and mikvah. This increased the cost of labor and materials by over $100,000. In short, man plans, but Hashem dictates.
We anticipate city inspection in a couple of weeks and please G‑d, look forward to opening Mikvah Yechiel in Chodesh Elul.
Don't let $40,000 stand between us and the purifying waters. 
Please consider joining as a member for $1000 per year.
At this stage any sizable donation is both necessary and needed.
Thank you and may G‑d bless you,                
Rabbi Hecht