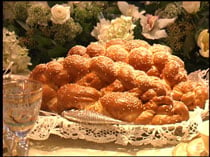 Join friends and community as we acquire the skill of making beautiful Shabbat Challah in a fun friendly atmosphere.
Your family will enjoy the smell of freshly baked Challah when they come home, it also adds a great taste to a Shabbat table!
Make it!  Braid it! and Take it home to your family....
Suggested donation $5
---
  
Please call Rebetzin Sara at 415-420-5132 or email [email protected] for upcoming sessions.